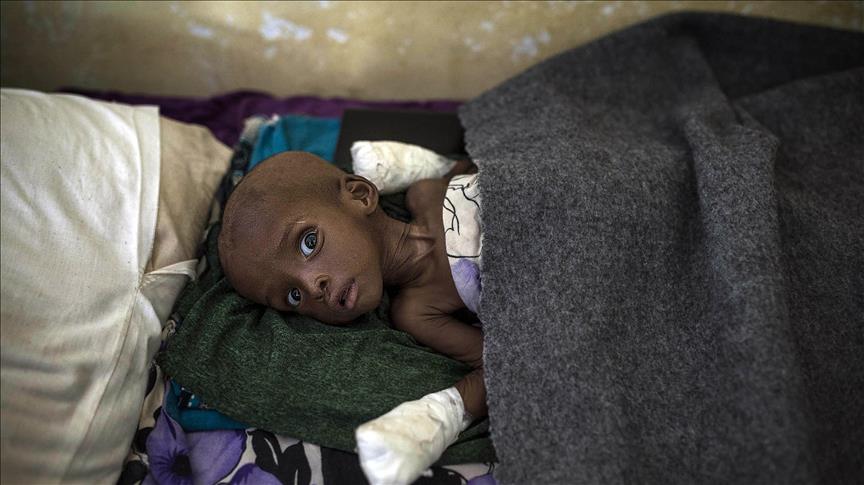 At least 400,000 children in the conflict-ridden Kasai region of the DRC could starve to death in the coming year without urgent aid, the UNICEF warned Tuesday.
By AA
"At least 400,000 children under five in the Kasai region of the Democratic Republic of the Congo are suffering from severe acute malnutrition and could die in 2018 if they are not urgently reached with lifesaving health and nutrition interventions," the UN children's agency said in a statement.
In the restive Kasai region, clashes between the army and Kamuina Nsapu militiamen have claimed thousands of lives and displaced over 1 million over the past 18 months.
"More than 750,000 children across the region are acutely malnourished, while 25 health zones in the Kasai region are now in a situation of nutritional crisis with emergency thresholds on nutrition exceeded," the statement said.
"This nutrition crisis and food insecurity in the Kasai region follows the displacement of thousands of families who have been living for months in very harsh conditions," according to Dr. Tajudeen Oyewale, UNICEF Acting Representative in the Democratic Republic of the Congo.
The violence and displacement of 1.4 million people in the Kasai region has led to food shortages, with two-thirds of households unable to work their land to grow crops, according to UNICEF.
Since January 2017, UNICEF and its partners have provided therapeutic nutritional care to 50,700 children with severe acute malnutrition, aged between 6 and 59 months, in the restive region.
However, the children's agency has received only 15 percent of the funding required to respond to the nutritional needs of children in 2017.
Etiketa: Congo, starvation, Unicef