Wednesday, December 20th 2017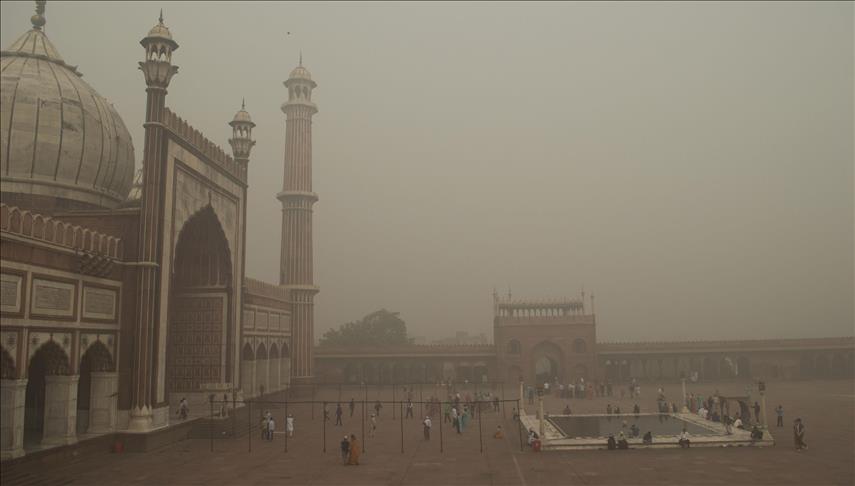 New Delhi – Citizens in the Indian capital New Delhi caught a glimpse of the sky on Monday as smog showed the first few signs of clearing up.
By AA
Smog — a mixture of smoke and fog — which has engulfed the city since the past week, has forced residents to stay indoors — their only escape from the toxic air outside.
Even though the smog is subsiding, air quality in the city has worsened since the beginning of this month, with Delhi Chief Minister Arvind Kejriwal describing the city as a "gas chamber".
Prashant Kumar, who own a printing house in the city, says if things do not improve he will have no other option but to relocate his family.
"This air is toxic. If the situation remains the same in the coming months, I don't think there is any other option than to send my children to another city."
Environmental experts say local pollution and meteorological conditions have caused the Air Quality Index (AQI) to cross severe levels.
As the situation deteriorated, the local authorities ordered closure of schools for a week, and the country's environment court National Green Tribunal (NGT) ordered several restrictions including a ban on construction activities in the capital.
Some restrictions have been lifted now.
Breathing problems
The situation has begun to improve gradually following a change in weather conditions. On Sunday, the AQI was in "poor and very poor" categories in the capital, a slight improvement from last week.
"The winds are bringing the pollution levels down and smoggy weather will also reduce," Mahesh Palwat, Director of Skymet, a New Delhi-based private weather forecast agency told Anadolu Agency.
Meanwhile, hospitals in the city are piling up with patients with respiratory problems.
Professor Raj Kumar, who heads the department of respiratory allergy and applied immunology at Vallabhbhai Patel Chest Institute (VPCI) in New Delhi said he saw an increase in patients with asthma and lung diseases.
Government officials claim the prime reason for smog in the capital is the practice of burning straw to clear land for cultivation by farmers in Indian states of Punjab and Haryana.
According to a report by state-run System of Air Quality and Weather Forecasting And Research (SAFAR), the burning of crop and a dust storm in the Middle East in late October contributed to the smog.
Balbir Singh Rajewal, who leads one of the farmers associations in Punjab, told Anadolu Agency that farmers had been using this method to clear farmland for the last several years.
Causes of smog
"If the government wants us to stop they should give financial compensation to the farmers. They do not have the means to use any other method," he said.
In a move to prevent crop-burning, state-run power producer National Thermal Power Corporation Limited (NTPC) is mixing straw and coal for power generation in its power plants, local media reported earlier this month.
Renowned Indian environmentalist activist Vandana Shiva told Anadolu Agency that a proper assessment of air pollution is needed.
Santosh Harish, associate director Energy Policy Institute at the University of Chicago told Anadolu Agency: "What we are going through is a public health emergency."
He added that the country needs investment in public transport, improved fuel standards, and disincentives on ever increasing private vehicle usage, to address the problem in the longer-run.
Meanwhile, the foreign diplomats in the city are complaining about the air pollution levels.
Local media reported that Costa Rican Ambassador to India Mariela Cruz Alvarez moved to Indian city of Bengaluru, and she publicly declared New Delhi's air is "unbreathable".
"I am sick in South India with a serious upper respiratory infection due to New Delhi's unbreathable air…" The Indian Express reported quoting the text from her blog.
Etiketa:
india