Tuesday, September 19th 2017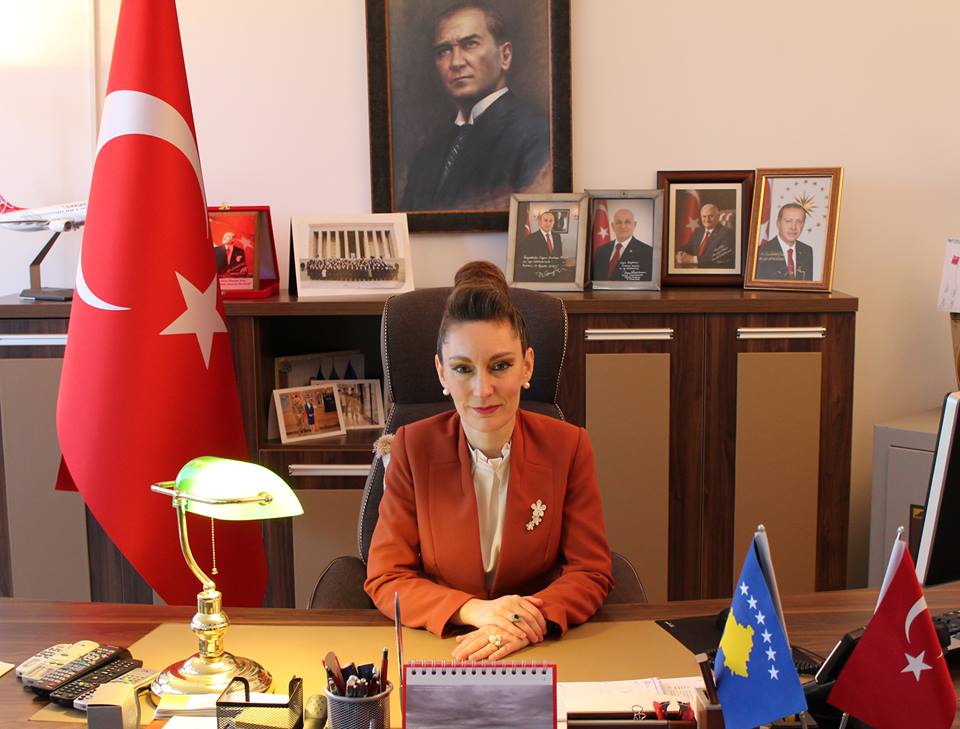 Prizren Post: How did you know Kosovo before being ambassador?
Kıvılcım KILIÇ: Like every Turk, I have had close interest and love towards Balkans geography. The reason for our country's interest in the Balkans and of course to Kosovo is the common history, cultural and human elements that we share. The existing close social connections between our countries are the product of a deeply rooted heritage. Cognate and friendly communities living in the Balkans and Balkan citizens living in Turkey are the bearers of this heritage.
The process of Yugoslavia's disintegration and subsequent Kosovo independence has been closely followed and supported in Turkey by both our politicians and our people. Especially since the beginning of the 2000s, all the institutions of our government and our state continue to provide all kinds of support for Kosovo to attain the prestigious position it deserves in the international community. Of course, this support is reinforced by the immediate relevance and sincerity of our people towards Kosovo and the people of Kosovo. We are pleased to see the interest and love of Kosovo's people towards our country.
Prizren Post: What are the most successful projects you see between Kosovo and Turkey? What are the contributions? Have they reached their goals?
Kıvılcım KILIÇ: There is a successful cooperation between our country and Kosovo, which is ongoing in many fields, especially in economy, culture, security and health. Turkey continues to support Kosovo with many projects that have been active in these fields.
In-service training programs for public personnel and specialists, training services for police and security personnel, the treatment of hundreds of Kosovo patients every year in Turkish hospitals, and the training of hundreds of Kosovo students in undergraduate and post-graduate education in our country are activities that we are proud of. Likewise, we see TIKA's contributions to Kosovo institutions in education, health and agriculture as well as projects to improve private entrepreneurship and employment, to increase the power of young people and women in the economy and to protect cultural heritage, as beneficial projects that improve the daily life of Kosovars. In the cultural area, Yunus Emre Turkish Cultural Centers' activities in culture and arts and support for Kosovan artists are successful activities that continue successfully.
Our KFOR soldiers are carrying out effective and successful social responsibility projects in all cities and villages throughout Kosovo, as well as providing security and stability, as well as by supporting civil initiatives and NGOs. In addition, our universities, municipalities and various NGOs in Turkey support Kosovo with various projects.
In addition to these areas, we are continuing our intensive efforts to make Kosovo be more recognized and become a member of international organizations. We are pleased to see that Kosovo has already been recognized by 114 countries and that Turkey has contributed to many international memberships. Our politicians, our Ministry and our embassies all over the world are continuing their initiatives on this issue. With these collaborations we will continue to be with our Kosovan friends on a march to Kosovo's bright future.
Prizren Post: Who are the ones who want recently to damage Albanian-Turkish relations? What are their aims and why? Do these attacks have a realistic share?
Kıvılcım KILIÇ: It is obvious that there are some circles who want to destroy the relationship between our country and Kosovo, and attempt to do a series of slander and attrition for this purpose. These incompetent efforts come from people and environments that are prejudiced against our country, especially the Fethullahist Terrorist Organization (FETO) and their extensions, which attempted a coup on July 15, 2016 in our country. However, it should be understood that the relations between Turkey and Kosovo are very strong and both sides are looking forward to strengthening these relations. As always, Turkey will continue to give full support for Kosovo and the people of Kosovo to become a respected member of the European institutions that we have seen as our common future.
There can always be those who want to destroy relationships. However, such initiatives will have the most responsive, cooperative and collaborative relationships that develop through our friendship and fraternal empathy.
Prizren Post: Kosova'ya ekonomik destek sürecinde Türkiye'nin önemli bir aktör olduğunu görüyoruz, son zamanlarda ekonomik işbirliğinde artırma var mı? Hangi sektörlerde işbirliği derinleşmektedir?
We see that Turkey is an important actor in the process of economic support for Kosovo, is there an increase in economic cooperation in recent times? In which sectors cooperation is most focused?
Kıvılcım KILIÇ: There are many successful projects undertaken by Turkish companies in Kosovo in order to contribute to economic development and to create employment. Turkey is currently the third largest investor country in Kosovo, with an approximate € 368 million. The direct investment our country made in Kosovo in 2016 was 44.4 million euros. It is proud for us that there are about 510 Turkish companies operating in Kosovo and that these companies employ about 10,000 Kosovar workers. With a trade volume of € 243 million in 2016, Turkey has become the third partner in Kosovo's foreign trade. In the first six months of 2017, our foreign trade volume was around 140 million euros.
The contracting sector is the contribution that our projects in Kosovo have to the infrastructure of the country and to the sectors connected to it. We would like to support major infrastructure projects such as the new terminal building of Prishtina Airport, the Morina-Merdare Motorway, the ongoing Pristina-Hani Elezit Motorway, and the Kosovo Electricity Distribution and Procurement project in the upcoming period. In addition, it is necessary to remember the important activities of Turkish firms in the fields of banking, insurance, health, textile and food in Kosovo.
The closeness between the two countries and our peoples also helps the activities of the business community. We have a lot of businessmen here who want to invest in various fields and want to do business. In cooperation with the Kosovo-Turkey Chamber of Commerce, where we run the Chamber of Commerce and Honorary President as the Embassy, we are trying to direct these businessmen to useful areas in contact with Kosovo authorities. We will continue to support our private sector efforts to improve our economic and commercial relations, to increase the investments that contribute to the economic development of Kosovo and to increase job opportunities in Kosovo.
 
Prizren Post: Last year Turkey has gone through a very difficult process. After 15 July did Turkey express to Kosovo the seriousness of the terrorist aims that FETO organization has? What are the successful steps taken in Kosovo in this regard?
Kıvılcım KILIÇ: As Turkey, from the very beginning, we say that FETÖ is a global threat to all democracies, and that its aim is to seize power as the owner of influence over the political, social and economic structures of the countries. We unfortunately were faced with the most treacherous and cruelest face of this organization on July 15th, 2016. For the first time in our history an unprecedented treacherous coup attempt was made against our constitutional order and our elected representatives. That night, more than 250 people lost their lives in the fight against this treachery and more than 2,000 people were injured. I want to say that to repair the deep destruction created by these traitors our people and our institutions for about 1.5 years are still continuing and that we are quite successful in this. The FETO struggle naturally continues within the limits of law and will continue until this terror network is completely destroyed.
We see it as a duty for ourselves to tell the friendly and brotherly countries what a low level of action the FETO terror organization can be. We emphasize that FETÖ is not a simple civil society movement and that every institution that is affiliated with FETÖ directly or indirectly acts as a terrorist. We also have many initiatives in Kosovo. We continue our contacts with politicians, businessmen and representatives of civil society on every occasion, we are telling the true face of FETO. We also do not allow Turkish symbols to be used by those who attack the Turkish people and their values.
Prizren Post: Several schools are still operating in Kosovo by this terrorist organization. Are they standing economically at the local resources that this global terrorist organization has built up or do they have known official supporters?
Kıvılcım KILIÇ: In Kosovo there are pseudo-educational institutions affiliated with FETO. In addition, student dormitories, associations and foundations are also available. It is clear that such schemes have contributed to the global financing of FETÖ. FETO is a terrorist organization. Decisions given on this direction by Turkish courts is open. In addition, the Islamic Cooperation Organization and the Gulf Cooperation Council have declared FETÖ as a terrorist organization. In addition, the consultation status of the partners of the FETO and NGOs at the United Nations was canceled. In that sense, I repeat the call for Kosovan families at every opportunity: The diplomas given by so-called schools linked to this organization have no validity in Turkey.
We are also opening Maarif Schools in Kosovo in order to prevent the exploitation of the families from the FETO schools and to contribute to the Kosovo education system. Starting from this academic year, Maarif Schools will start serving with strong staff and international education standards. We want to contribute to the upbringing of students who are well equipped to live in this age schools in the future of Kosovo and who have very good knowledge of foreign languages.
Prizren Post: How should Kosovo fight against this terrorist organization? What are examples from Turkey in combating this terrorist organization? Is there any improvement in Kosovo?
Kıvılcım KILIÇ: Since the very beginning, the people of Kosovo have shown the sincere support that we have been waiting for in our fight against FETO. Thank you very much for that. We will continue our contacts with the Kosovo authorities in this process.
Our primary expectation from Kosovo is that FETO is naturally regarded as a terrorist organization. Taking measures for the activities of the FETO affiliated NGOs known to be active in Kosovo is our expectation from our friends in Kosovo. We would like to carry out our contacts and stronger co-operation with the new government to be established in the coming period.
 
Prizren Post: Will President Erdogan visit Kosovo lately?
 
Kıvılcım KILIÇ: We wish that the mutual high level visits, which constitute an important indicator of close relations between the two countries, will continue to increase in the coming period.
Interviewed for Prizren Post by: Jetmir MALOKU.
Etiketa: Acta Diurna, Interview, Jetmir Maloku, Kıvılcım KILIÇ, Kosovo, Magazine, Turkey