Wednesday, December 9th 2015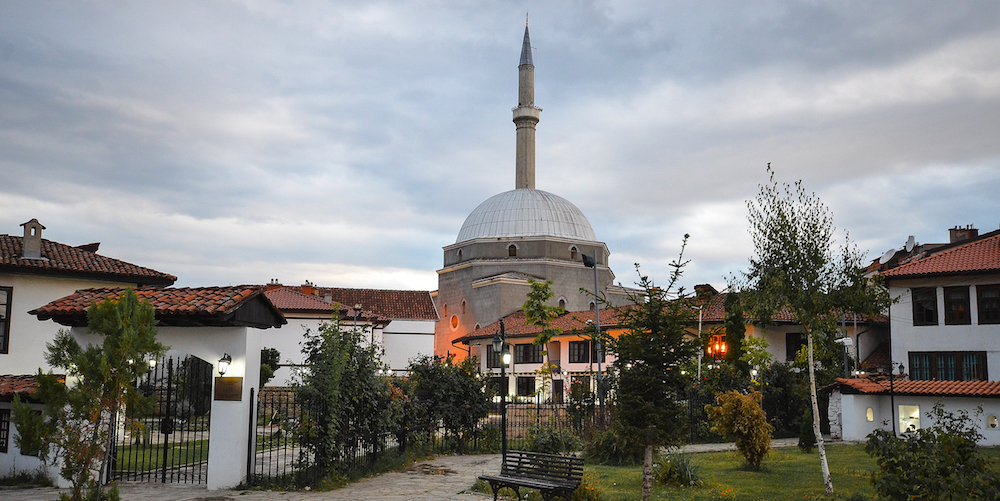 Prizren – Mehmed Pasha's mosque is one of the largest mosques of Prizren, Found on the south-eastern part of the city and has a special culturo-historical value.
---
Gazi Mehmed Pasha built the hammam, mosque, shrine, madrasah, library, class, and other similar kind of object from 1563 until 1574. The Bayrakli mosque including library, madrasah, shrine and old traditional houses make an excellent and complete architectural heritage of the Otoman era.
It has a large well-regulated yard, including nine springs, in which cold water flows, create a fresh and relaxing ambient for its visitors. Enterier walls are white, decorated with some medallion and sprig paintings dominated by blue colour. The miharb and the minbar (pulpit) are composed of marble while mahfil is from decorated wood.
The object has a square shape with a porch on three sides. While the main area of prayer has in imposant cube, the porch is with three-aquatic roof and is supported by wood columns. The roof is covered with lead placates and tin. Although Mehmed Pasha built the mausoleum(shrine) in the yard, he was not buried there, because he died away from Prizen, somewhere in Panonia (Hungary).
Despite its architectural importance, Mehmed Pasha's mosque has its historical importance, because here the assembly of League of Prizren was held. Because the flag was raised here, the mosque gets the nickname "Bajrakli" (bearer).
The building has been restored several times, unfortunately, not so professional. Recent extensive restoration was made in 1994/96, where the re-painting of the interior took place. Also, in the courtyard of the mosque are several old cemeteries.
In the 1970's, a part of the compound is annexed to be a muesum of League of Prizren.
Library and Madrasa
Mehmed Pasha's madrasa is the oldest madrasa of the city. Although the exact time of construction is not known, is believed to be built simultaneously with the Bajrakli Mosque. Besides providing learning, an area of it was used as dormitory too. Madrasas remained open until 1947, while since 1978 it belongs to the museum complex of the League of Prizren.
Mehmed Pasha's Library is a one-floor building located on the south part of the mosque. As madrasa, the library is believed to be built at the time the mosque was built. Library now is a part of the complex of League of Prizren access is provided only from the museum side. Books and manuscripts are now transferred to the Mehmed Pasha's shrine (at the yard of the mosque).
Etiketa: cultural heritage, Mehmed Pasha's Mosque, prizren