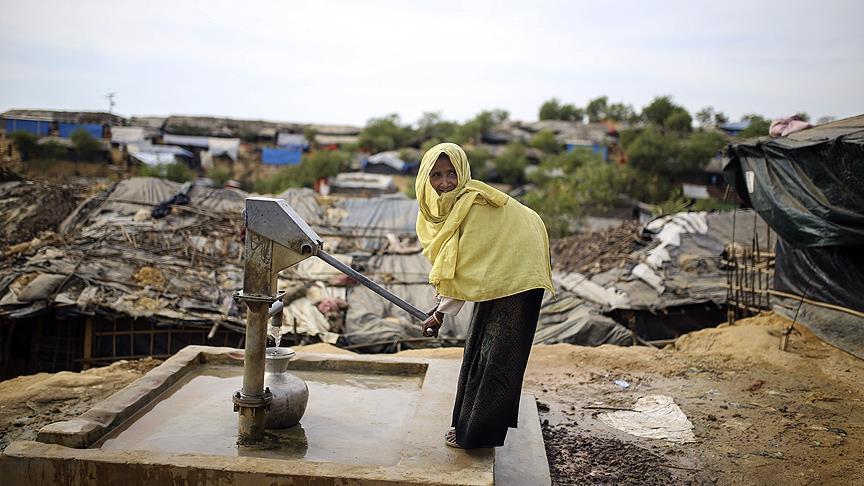 Overcrowding at refugee camps in Bangladesh is posing health risks to Rohingya Muslims, mainly by limiting access to clean water, said Doctors Without Borders.
By AA
Mohammed Musoke, Bangladesh medical coordinator for the international humanitarian organization, told Anadolu Agency that overcrowding increases the risk of the spread of infectious diseases.
Since the outbreak of violence on Aug. 25, over 620,000 Rohingya have crossed from Myanmar's western state of Rakhine into Bangladesh, according to the UN.
The refugees have fled a military operation in which security forces and Buddhist mobs have killed men, women and children, looted homes, and torched Rohingya villages.
Hundreds of thousands of Rohingya are staying in temporary camps in tent-like structures, less than a meter apart from each other, in the outskirts of coastal Cox's Bazar city, near the border with Myanmar.
Musoke said that the Health Ministry of Bangladesh and non-government organizations are running a vaccination campaign to prevent measles outbreak.
The Ugandan doctor said intestinal infections leading to diarrhea and respiratory tract infections, apart from measles, are the most common diseases in the camp, which are mainly affecting children.
At the camps, the close proximity of toilets to drinking water wells, is the main cause of the spread of intestinal infections.
A large number of children play in playgrounds lined with piles of rotten food and toilet waste.
Research carried out by the World Health Organization and Health Ministry revealed that water samples collected from the wells are not fit for human consumption.
The provision of clean water is among the top priorities at the camp, Musoke said, which requires drilling the water wells to a depth of 150-200 meters.
Some health organizations have distributed simple water purification devices that can be used at homes, but more needs to be done, Musoke added.
He said access to secondary health care is minimal.
Although many outpatient clinics have been opened in the last three months, medical services such as inpatient treatment and surgical intervention are limited.
Most patients in serious conditions who require special care or surgical intervention are transferred to Cox's Bazar city which is about two hours away from the camp.
Etiketa: bangladesh, Rohignya