Second Degree Burns Treated with FISH SKIN in World First
The benefits of cod liver oil have been well documented, but who knew fish skin had healing qualities?
One woman discovered this the hard way, after suffering horrific burns to her arms, neck and face when a gas canister exploded at work. Fish skin was applied to waitress Maria Ines Candido da Silva's second degree burns and made a huge difference to her recovery. Doctors dressed her wounds with the skin of a Tilapia fish, a pioneering new therapy which has been proven to significantly reduce the trauma suffered by burn victims.
The fish skin was chosen as it contains high levels of collagen type one and high degrees of humidity which help speed up healing and provide patients with essential proteins. Maria, 36, from Russas, Brazil, said: "The explosion left me with horrific injuries. I was in absolute agony and desperate for anything to ease my suffering. "When doctors suggested putting fish skin on my wounds I found the idea really strange. But I jumped at the chance because they said it would be far less painful than the normal treatment and easier to manage." "It was a really bizarre experience. I felt like I was in a sci-fi movie when the Tilapia fish skin was being put on. "At first the fish skin felt really cold but within minutes of it being laid on, I didn't feel any more pain and it felt cool and comforting. I was really surprised and grateful that it didn't smell either." In October, Maria was one of the first patients to be treated with the procedure as part of the pilot project at the IJF Burns Unit.
Traditional treatment for burns in Brazil involves using sulphur sulphadiazine, a substance that heals wounds within 14 days, on average. Dressings and bandages must be changed daily to keep the wounds clean and the patient has to take an anaesthetic shower using anti-bacterial soap, otherwise the wound emits an offensive odour after 24 hours.
However, with this ground-breaking treatment, patients are pain free and the fish skin is reported to reduce healing by one or two days. Maria added: "Nurses used the creams when I first arrived. I was in excruciating pain already and the wounds on my hands were really deep. It was like I was being tortured and the touch of the water to shower it off caused so much pain."
The innovative biological dressing has been developed by a team of researchers over more than two years at the Nucleus of Research and Development of Medicines (NPDM) of the Federal University of Ceará (UFC). Plastic surgeon Dr Edmar Maciel is president of the Burns Support Institute, and one of the coordinators of the project. He said that fish skin triggers healing in roughly the same amount of time as topical creams, while causing patients less stress. He added: "The benefits of this alternative technique include reducing the trauma and pain suffered by patients because their dressing does not have to be changed daily. With the traditional treatment, it does."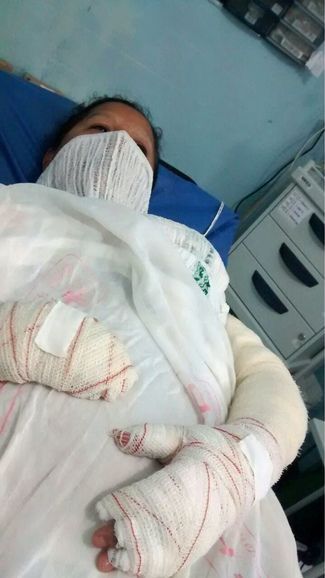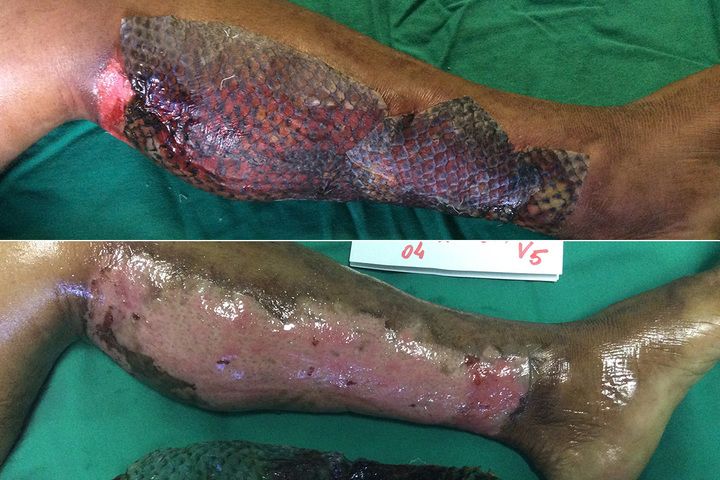 Etiketa:
burns
•
fish
•
medicine