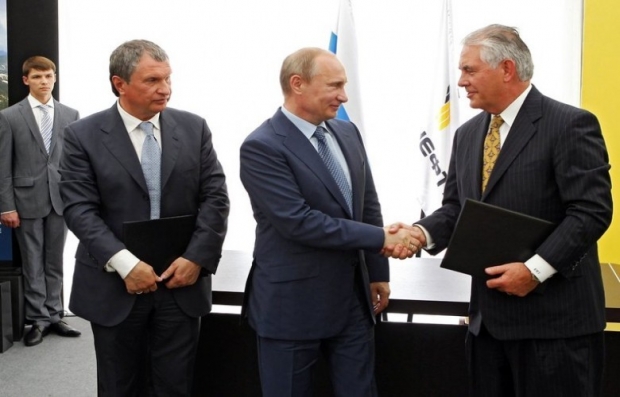 Donald Trump defended Rex Tillerson Sunday as a "world class player" in face of criticism the oil executive should not be in charge of the State Department.
"Whether I choose him or not for "State"- Rex Tillerson, the Chairman & CEO of ExxonMobil, is a world class player and dealmaker. Stay tuned!," Trump tweeted Sunday.
The president-Elect is considering Tillerson, a powerful oil executive who is close with Russia leader Vladimir Putin, for the Secretary of State.
Trump named Tillerson, as well as Sen. Bob Corker and Mitt Romney, as his short-list of candidates during an interview on Fox News Sunday. The top-level nomination is expected this week.
"He's much more than a business executive," Trump told Fox News Sunday. "I mean, he's a world-class player. He's in charge of, I guess the largest company in the world."
Trump said he values Tillerson's ties to Russia – which the CIA has blamed for interfering with the US election to propel Trump to the White House.
"To me, a great advantage is he knows many of the players, and he knows them well," Trump said. "He does massive deals in Russia. He does massive deals for the company — not for himself — for the company."
But both Democratic and Republican senators have cast doubt about Tillerson, who was awarded Russia's "order of friendship" honor by Putin.
"Being a 'friend of Vladimir' is not an attribute I am hoping for from a #SecretaryOfState – MR," Florida GOP Sen. Marco Rubio tweeted.
"Reports that Rex Tillerson could be nominated to be our nation's top diplomat is alarming and absurd. With Rex Tillerson as our Secretary of State, the Trump administration would be guaranteeing Russia has a willing accomplice in the President's Cabinet guiding our nation's foreign policy," said Sen. Bob Menendez (D-N.J.).
Trump Sunday also touted his work to elect the 52nd GOP senator in Louisiana's election Saturday.
"I spent Friday campaigning with John Kennedy, of the Great State of Louisiana, for the U.S.Senate. The election is over – JOHN WON!"
Source: http://www.rtklive.com/en/?id=2&r=7021
Etiketa: donald trump, vladimir putin